Data Connect
SS920A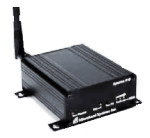 The Data Connect SS920A is a 900MHz ISM Band Frequency Hopping Wireless Modem, that can be optimized for long distance communications of over 60 miles (100Km). The Data Connect SS920A radios offer the fastest communication over the longest distances.
Data Connect's proprietary radio technology excels in the most demanding RF and physical environments. The Data Connect SS920A features robust, high speed, low latency, and secure data communications. It has a full serial port and separate diagnostics port for real-time diagnostics without interrupting data communications. Excellent noise figure, superior interface rejection, agile frequency synthesis, digital modulation, and match filter detection, are among the many advantages to using the Data Connect SS920A.
The following are applications for Data Connect SS920A
SCADA (PLC's MODBUS) Telemetry
Commercial Communication
GSP Vehicle Detail Tracking, DGPS
 Electric, Oil, & Gas Utilities / Metering
Display Signs
Robotics
Transparent Low Latency Communication
The Data Connect SS920A provides a transparent, low latency link with up to 230kbps continuous throughput to support protocol such as MODBUS. The Data Connect SS920A supports Point-to-Point, Point-to-Multipoint, Peer-to-Peer, Store & Forward Repeater, TDMA, and Multimaster. The Data Connect SS920A has separate diagnostic port, transparent remote diagnostics online network control.
Features
Communicates with virtually all PLC's, RTU's, & Serial Devices
Industrial Grade with Extended Temperature Specification
Adjustable Transmit Power (100mW-1W)
Low Power Consumption in Sleep Mode
32 bits of CRC, Selectable Forward Error Correction with Retransmission
Specifications
Frequency:
902-928 MHz
Spread Method:
Frequency Hopping
Band Segment:
Selectable via Frequency Restriction
Error Detection:
32bits of CRC, ARQ
Encryption:
Optional Canada & USA only. NOT AVAILABLE for Export see AES option
Range:
60+ miles (100+km) Dependent on Link Rate & Line of Sight
Sensitivity:
-108dBm @ 172kbps Link Rate
-116dBm @ 19.2kbps Link Rate
Out Power:
100mW – 1W (20 to 30dBm)
System Gain:
142dB with Rubber Ducky Antenna
150dB with 6dBi Antenna
Data Interface:
RS232 / RS485 / RS422
Serial Baud Rate:
300bps to 230.4kbps
Link Rate:
19.2kbps – 230.4kbps (See Order Options)
Operating Modes:
Point-to-Point, Point-to-Multipoint, Store & Forward Repeater, TDMA, & Multimaster
Signal Interface:
RXD1, TXD1, RTS, CTS, DCD, DSR, DCD, DSR, DTR, RXD2, TXD2, RSSI LEDs,
TX/RX LEDs, Reset Configuration, Wake-up, & RS Mode
Diagnostics:
Battery Voltage, Temperature, RSSI, & Remote Diagnostics
Rejection:
Excellent Strong Signal Interface, Rejection Characteristics
Input Voltage:
10-30VDC
Connectors:
Antenna:           RP-TNC Female Bulkhead
Data:                RS232 (DB-9F)
Locking Screw Connector
Ordering Information