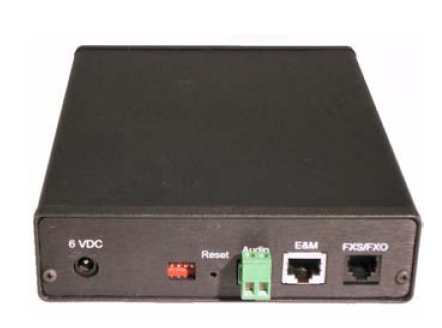 The Data Connect EPORT-MLS Modem LAN Server allows customers to continue to use the Leased Line Modem output signals of their RTUs and other equipment and transport themodem signals over IP packets. This allows for seamless transition of 2-wire or 4-wire leased-lines to wireless or wireline IP networks. With the EPORT-MLS you can stop paying for dial-up and leasedline circuits. In technical terms, the DCE/EPORT-MLS combines thetranslation of asynchronous serial data, voice and audio into a higher frequency analog signal. Then the higher frequency analog signals are translated into IP packets that arebroadcast by the server over the Ethernet LAN/WAN.
As a leading innovator in SCADA transmission products, Data Connect continues to deliver timely required equipment. The everything-over-IP migration is pushing more and more applications to be driven over IP networks. For many this includes the delivery of Serial, Voice, Audio and Analog over Ethernet networks. Currently, and in the near future, many phone companies are no longer providing or maintaining Leased Line Circuits. With the introduction of the Eport-MLS Data Connect has designed a solution that allows customers to use the Leased Line Modem output signal of their RTUs and other equipment to transport those signals over IP packets for seamless transition from leased-lines to IP via copper, fiber, or wireless.
In addition to leased-line modem to Ethernet conversion, the Eport-MLS is able to convert Dial Modems, Raw Audio, FXO, FXS, Push-to-Talk, or E&M Analog Signals into IP packets that are delivered by the server over either a Synchronous or Asynchronous serial trunk or the Ethernet LAN/WAN via copper, fiber, or wireless
The output of Ethernet or Serial Data is received by a Router, Converter, Extender, FRAD, or DSU/CSU and then transmitted over COPPER that can be Leased Line, Private Wire, FT1, T1, andT3; FIBER that can be multi-mode, single-mode, or WDM; or WIRELESS that can be RF, 802.11b/g/n,FHSS, 3G, 4G, GSM/GPS, cellular, or laser.
Applications for the DCE/EPORT-MLS are Utility Substations, Office to Home Analog Extensions,Gas and Oil Production, Pipelines, Sales Personnel at Home or Traveling and Phone Extensionsover Wireless Links.
FEATURES
Analog voice over Serial Synchronous or Asynchronous
Voice over Ethernet
Input Serial Network port can be Async or Sync
Output RS232 Serial or 10/100Base-T
Simple, low cost Analog Phone Device
FXO/FXS, 4-Wire E&M or Push-to-Talk interface
Very high quality low Bit Rate Voice, P25 rates of 2260 Bps to 9600 Bps
32K ADPCM (G,721) or 56K PCM (G.711) voice options
Industrial Grade -20C to +85C
DC Power Options: 12, 24, 48, 125 VDC
Serial or Browser Set-up
USB Serial Port or RS232 Port for configuration
Web Browser configuration
Easy to configure and Maintain
SPECIFICATIONS
GENERAL
One Asynchronous RS232 User Configuration Input Port at Speeds to 230.4 Kbps
One Synchronous or Asynchronous Network Input Port at up to 256 Kbps
A built-in Ethernet Network Output Port
FXS/FXO, E&M and PTT Microphone Plus Speaker Voice Input Interfaces
P25 Compressed Voice 2250 to 9600 Bps, 32K ADPCM (G.721) or 56K PCM (G.711)
USB Serial Port for Set-up and Firmware Upgrade
Test Tools to Measure Delay, Monitor Data Port Traffic
PROTOCOL FEATURES
Point-to-Point
Serial RS232 or USB PC/Terminal Configuration and Management
Voice Jitter Buffer
INDICATORS (Front Panel)
CONTROLS
ELCTRICAL
6 VDC 600 ma, 100-240 VAC External Power Supply is standard
Specify 12, 24, 48, 125 VDC if required
Physical
ENVIRONMENTAL
Operating Temp: -40° to +85° C
Storage Temp: -50° to +95° C
Humidity: <95% Non-condensing

ORDERING INFORMATION
DCE/EPORT-MLS DATA CONNECT MODEM LAN SERVER 120-240 VAC, 12 & 125 VDC
DCE/EPORT-MLS-24 DATA CONNECT MODEM LAN SERVER 24 VDC
DCE/EPORT-MLS-48 DATA CONNECT MODEM LAN SERVER 48 VDC
DCE/EPORT-MLS-RM DATA CONNECT MODEM LAN SERVER RACKMOUNT
UDS/62005203 UNIVERSAL DATA SYTEMS SEGMENTED 16 SLOT CHASSIS