Data Connect 48V-POF-GB
48VDC Power over Fiber Gigabit Speed

The Data Connect 48VPOF-GB is a Gigabit speed POE injector providing 48VDC to an IP Phone, IP Camera, or any other piece of IP Equipment at the end of a single fiber drop. The DCE/48VPOF-GB provides a gigabit SFP open slot, a 10/100/1000Base-TX, and a TP Port compromised of a 1000Base SX/LX Ethernet Fiber Port. The TP-Port can Support the Half/Full-Duplex, Auto-MDI/MDI-X and Auto-Negotiation.
The DCE/48VPOF-GB is IEEE802.3, IEEE802.3u, IEEE802.3ab, IEEE.802.3Z, IEEE 802.3af, and IEEE 802.3x compliant. The SFP open slot allows for small for factor pluggable hot-swappable gigabit fiber types and connections such as SX, LX, ST, SC, & LC. The DCE/48VPOF-GB has an internal power supply with a 90-260VAC, 50-60Hz input, UL Safety and Power over Ethernet of 48VDC.
Features
Compliant with IEEE 802.3 – 10Base-T, IEEE 802.3u – 100Base-TX, IEEE 802.3ab – 1000Base-T, and IEEE 802.3z – 1000BaseSX/LX Gigabit Ethernet Standards
One 10/100/1000Base-TX TP Port and One 1000Base SX/LX Ethernet Fiber Port
Providing one gigabit SFP open slot
Compliant with IEEE-802.3af
Compliant with IEEE-802.3x flow control an back pressure
TP Port can support Half/Full-Duplex, Auto-MDI/MDI-X and Auto-Negotiation
Diagnostics LED Indications, Link/Act: 1000M, POE and Power
Safety & EMI Certificates: CE & FCC
Smart plug & play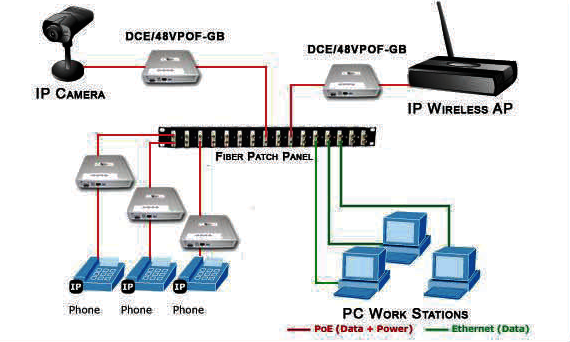 Specifications
Standards:
IEEE 802.3ab 1000Base-T
IEEE 802.3z 1000BaseSX/LX
IEEE 802.3x Flow Control
IEEE 802.3af
Features:
Number of Ports:
1 1000Base-T with RJ45 Connector
1 1000BaseSX/LX with Fiber SFP Slot
Data Transfer Rate:
2000Mbps/Full-Duplex
Transmission Media:
TP: 1000Base-T Cat.5, 5E, 6 UTP/STP, up to 100m
1000BaseSX: 50/125µm Single Mode Fiber optic cable, up to 220m 62.5/125µm Multi Mode Fiber optic cable, up to 550 m
1000BaseLX: 9/125µm Single Mode Fiber optic cable
LED Indicators:
Per Port:
(TX): Link, TX
(FX): Link, RX
Per Unit: Power, Link/ACT, 1000M, POE
Power Supply:
18 watts
Power Consumption:
3 watts (Max)
Dimensions: (L x W x H)
6.375" x 5.75" x 1.25"
Weight:
1lb
Operating Temperature:
0 to 60°C
Storage Temperature:
-20°C to +90°C
Humidity:
10 to 90% RH (non-condensing)
Certifications:
FCC Class A, CE