The Data Connects RM16UI-AC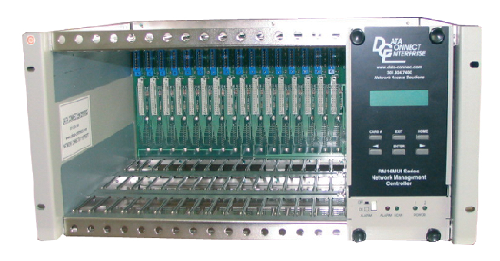 The Data Connect RM16UI-AC modem shelf is designed for centralized network that require up to sixteen concentrated DCE V.3600UI-RM modem cards in a computer room, a telephone closet or an industrial environment. The DCE RM16UI-AC modem shelf is constructed of heavy guage steel, plated for corrosion resistance. the modem shelf is comprised of 1 AC power supply, two levels of managed within the Network Management System (NMS) via RS485 and/or RS232 ports on the backplane, the Network Management Controller (NMC), an area for one to sixteen modem cards, and a backplane for hardwiring the dial or leased lines, an area for connecting AC or DC power and DTE access via DB25F connectors.
The first level of network management only requires a rack. In this application, the NMC unit is responsible for the operation of NMC. The NMC allows you to set up, control, and test any specific modem card in the same shelf. The NMC will amplify an audible alarm and visible LCD message through the operation of the front panel keys. The second level of network management is designed for multiple racks in a large size network. The Network Management requires a NMC that is composed of a computer and control units "Daisy Chain" structure is responsible for the operation of the NMS. In this application, the structure can manage up o 130,000 DCE V.3600UI modem cards via 8126 RM16UI-AC modem shelves.
The DCE V.3600UI-RM modem cards and the dual power supplies are hot swappable. The front panel controls both internal DCE V.3600UI modem cards and remote V.3600UI, V.3600UI-DC, V.3600UI-DC24, and V.3600UI-DC12 standalone modems. The dual power supplies are fully redundant. The AC power supply operates at 90-260VAC, 47-63Hz with a power consumption of 180 watts.
Features
Network Management System
Manage up to 130000 Rackmount Modems
Fully Redundant Power Supplies
Hot Swappable Power Supplies & Rackmount Modems AC & DC models
Specifications
EIA Standards:
Compliant with EIA Standard EIA-310-C
Modem Interface Connectors (Rear):
RS232: DB25F
Dial: Screws 1&2 (starting at the top)
Phone: Screws 3&4
2-wire leased line: screw 5 transmits & 6 receives
4-wire leased line: screws 5&6 transmit & 7&8 receive
Modem Interface Connectors (Rear):
RS232: DB25F
RS485: From + Screw 1
From – Screw 2
To + Screw 3
To –Screw 4
RPT OUT + Screw 5
RPT OUT – Screw 6
RPT IN- Screw 7
RPT IN- Screw 8
(2) RJ12: From + Pin 2
From – Pin 5
To + Pin 3
To – Pin 4
External Alarm (Rear):
Relay connection in conjunction with external alarm system
Normally closed (NC)-left screw
Common (CO)- middle screw
Normally Open (NO)- right screw
Alarm Button (Front):
Off-In
On-Out
LEDs (Front):
Alarm- Left LED
Scan- Middle Left LED
Power 1- + 24Volts Right Middle LED
Power 2- -12Volts Right LED
Dimensions:
Width: 19"
Depth: 15"
Height: 8.89"
Weight: 17Ibs.
Power Requirements (Rear):
Input  Voltage: 90-260VAC 47-63Hz-115/230VAC Auto Range
250V Fused Socket (IEC 320)
36-7VDC 47-63Hz- – 48V Left Screw
0V right Screw
Output Voltage: +24VDC + or -16%
-12VDC cooling fan Ground (GND) left screw
-12V right screw
Wattage:           132 Watts
Protective Ground: Protective Ground (PG) Left Screw
Signal Ground (SG) Right Screw
Environmental:
Operating Temperature: 0˚C-50˚C
Storage Temperature: -25˚C-70˚C
Relative Humidity: Up to 95% (non-condensing)
Ordering Information
DCE/RM16UI-AC           1 AC Power Supply