Motorola UDS RM16 Chassis
Data Connect Enterprise offers you great news!!!  Today you can still utilize the dazzling array of performance options that is available to the Motorola UDS Universal Data RM16 Shelf. The field proven free-standing Data Connect IG202T, IG96HFP, IG192HFP, and DSP9612 series modems were redesigned to fit into the Motorola UDS Universal Data Shelf environment.
The same Motorola UDS architected VAC and VDC single or dual power supplies are still mounted in the middle of the UDS Motorola RM16 Universal Data Shelf.  
Features
AC or DC Powered

Special Mounting Brackets

19" Shelves in 23" Rack

Accepts 16 Operating Modules

Top & Bottom Vents

Rugged Heavy Gauge Metal

Compact System Installation

Uncluttered Cabling

No External Cooling Arrangements

Three Backplane Terminations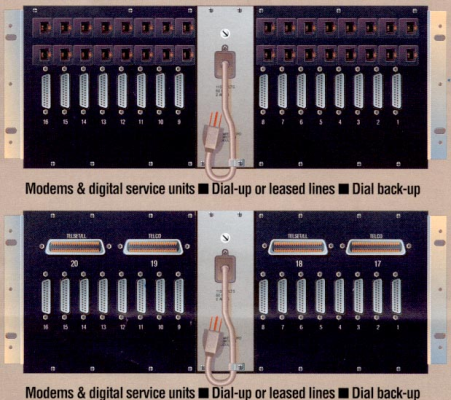 Specifications
RS232 Modem Levels
Receive data mark: -5 to -15 Volts
Receive data space: +5 to +15 Volts
Control Signals OFF level: -5 to -15 Volts
Control Signals ON level: +5 to +15 Volts
Expected Input Levels
Mark: -3 to -25 Volts
Space: +3 to +25 Volts
Controls OFF: -3 to -25 Volts
Controls ON: +3 to +25 Volts
Digital Interface Signal Descriptions (232C)
PIN 1 / EIA-232C AA / CCITT 101 / PROTECTIVE OR EARTH GROUND
PIN 2 / EIA-232C BA / CCITT 103 / TRANSMIT DATA
PIN 3 / EIA-232C BB / CCITT 104 / RECEIVED DATA
PIN 4 / EIA-232C CA / CCITT 105 / REQUEST TO SEND
PIN 5 / EIA-232C CB / CCITT 106 / CLEAR TO SEND
PIN 6 / EIA-232C CC / CCITT 107 / DATA SET READY
PIN 7 / EIA-232C AB / CCITT 102 / SIGNAL GROUND OR COMMON RETURN
PIN 8 / EIA-232C CF / CCITT 109 / RECEIVE LINE SIGNAL DETECTOR
PIN 9 / / / +12 VOLTS (REFERENCE)
PIN 10 / / / -12 VOLTS (REFERENCE)
Pin 11 / / / NOT USED
PIN 12 / EIA-232C SCF / / SECONDARY RECEIVED LINE SIGNAL DETECTOR
PIN 13 / EIA-232C SCB / CCITT 142 / SECONDARY CLEAR TO SEND
PIN 14 / EIA-232C SCB / CCITT 141 / SECONDARY TRANSMIT DATA
PIN 15 / EIA-232C DB / / TRANSMIT CLOCK (DCE)
PIN 16 / EIA-232C SSB / / SECONDARY RECEIVED DATA
PIN 17 / EIA-232C DD / CCITT 115 / RECEIVE CLOCK
PIN 18 / / / NOT USED
PIN 19 / EIA-232C SCA / CCITT 140 / SECONDARY REQUEST TO SEND
PIN 20 / EIA-232C CD / CCITT 108.2 / DATA TERMINAL READY
PIN 21 / EIA-232C SQ / CCITT 110 / SIGNAL QUALITY INDICATOR
PIN 22 / EIA-232C CE / CCITT 125 / RING INDICATOR
PIN 23 / EIA-232C CH / CCITT 111 / DATA RATE SELECT
PIN 24 / EIA-232C DA / CCITT 113 / EXTERNAL TRANSMIT CLOCK
PIN 25 / / / NOT USED
DIGITAL EIA-232D
PIN 1 / / CCITT 101 / SHIELD
PIN 2 / EIA-232D BA / CCITT 103 / TRANSMIT DATA
PIN 3 / EIA-232D BB / CCITT 104 / RECEIVED DATA
PIN 4 / EIA-232D CA / CCITT 105 / REQUEST TO SEND
PIN 5 / EIA-232D CB / CCITT 106 / CLEAR TO SEND
PIN 6 / EIA-232D CC / CCITT 107 / DATA SET READY
PIN 7 / EIA-232D AB / CCITT 102 / SIGNAL GROUND OR COMMON RETURN
PIN 8 / EIA-232D CF / CCITT 109 / RECEIVE LINE SIGNAL DETECTOR
PIN 9 / / / +12 VOLTS (REFERENCE)
PIN 10 / / / -12 VOLTS (REFERENCE)
Pin 11 / EIA323D CG / CCITT 110  / SIGNAL QUALITY INDICATOR
PIN 12 / / / NOT USED
PIN 13 / / / NOT USED
PIN 14 / / / NOT USED
PIN 15 / EIA-232D / CCITT 114 TRANSMIT CLOCK (DCE)
PIN 16 / / / NOT USED
PIN 17 / EIA-232D DD / 115 / RECEIVE CLOCK
PIN 18 / / CCITT 115 / RECEIVE CLOCK
PIN 19 / / CCITT 141 / LOCAL LOOPBACK
PIN 20 / EIA-232C CD / 108.2 / DATA TERMINAL READY
PIN 21 / / CCITT 140 / REMOTE LOOPBACK
PIN 22 / EIA-232C CE / 125 / RING INDICATOR
PIN 23 / EIA-232C CH / 111 / DATA RATE SELECT
PIN 24 / EIA-232C DA / 113 / EXTERNAL TRANSMIT CLOCK
PIN 25 / / CCITT 142 / TEST MODE
MODULAR JACK PIN FUNCTIONS (STANDARD MODEMS)
PIN 1 / R1 / T1, FT1, DDS (TRANSMIT PAIR)
PIN 2 / T1 / T1, FT1, DDS (TRANSMIT PAIR)
PIN 3 / R1 / RECEIVE RING FOR LEASED LINE MODEMS
PIN 3 / MI / MODE INDICATOR FOR DIAL LINE MODEMS
PIN 4 / R / RING DIAL
PIN 4 / R / RING LEASED
PIN 5 / T / TIP DIAL
PIN 5 / T / TIP LEASED
PIN 6 / T1 / RECEIVE TIP FOR LEASED LINE MODEMS
PIN 6 / MIC / MODE INDICATOR COMMON FOR DIAL MODEMS
PIN 7 / PR / PROGRAMABLE RESISTOR FOR DIAL MODEMS
PIN 8 / PC / PROGRAMABLE CONNECTIONS FOR DIAL MODEMS
PIN 7 / T / T1, FT1, DDS (RECEIVE PAIR)
PIN 8 / R / T1, FT1, DDS (RECEIVE PAIR)
LEASED LINE CABLE (RJ45 TO SPADE LUGS)
PIN 3 / BLACK / R1 / RECEIVE (4-WIRE)
PIN 4 / RED / T1 / TRANSMIT (4-WIRE)
PIN 4 / RED / T / TRANSMIT (2-WIRE)
PIN 5 / GREEN / T / TRANSMIT (4-WIRE)
PIN 5 / GREEN / T / RECEIVE (2-WIRE)
PIN 6 / YELLOW / R / RECEIVE (4-WIRE)
T1, FT1, & DDS CABLE (RJ45 TO SPADE LUGS)
PIN 1 / BLUE / R / RECEIVE
PIN 2 / ORANGE / T / TRANSMIT
PIN 7 / BROWN / T1 / TRANSMIT
PIN 8 / SILVER / R1 / RECEIVE
DIAL BACKUP SWITCH 56 (RJ45 TO RJ45)
PIN 1 / BLUE / PIN 1
PIN 2 / ORANGE / PIN 2
PIN 7 / BROWN / PIN 7
PIN 8 / SILVER / PIN 8
DIAL BACKUP MODULAR JACK PIN FUNCTIONS
PIN 1 / R1 / T1, FT1, DDS (TRANSMIT PAIR)
PIN 2 / T1 / T1, FT1, DDS (TRANSMIT PAIR)
PIN 3 / R1 / RECEIVE RING FOR LEASED LINE MODEMS
PIN 3 / MI / MODE INDICATOR FOR DIAL LINE MODEMS
PIN 4 / R / RING DIAL
PIN 4 / R / RING LEASED
PIN 5 / T / TIP DIAL
PIN 5 / T / TIP LEASED
PIN 6 / T1 / RECEIVE TIP FOR LEASED LINE MODEMS
PIN 6 / MIC / MODE INDICATOR COMMON FOR DIAL MODEMS
PIN 7 / PR / PROGRAMABLE RESISTOR FOR DIAL MODEMS
PIN 8 / PC / PROGRAMABLE CONNECTIONS FOR DIAL MODEMS
PIN 7 / T / T1, FT1, DDS (RECEIVE PAIR)
PIN 8 / R / T1, FT1, DDS (RECEIVE PAIR)