The Data Connect
2178FEE Fiber Ethernet Extender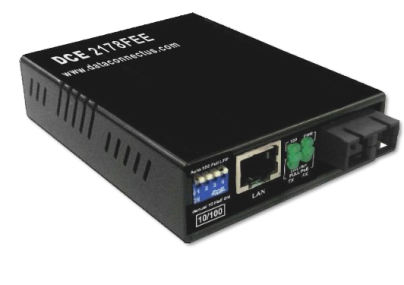 The Data Connect 2178FEE is a 10/100Base Ethernet to 100Base-FX fiber Ethernet extender designed for extending 10/100 Base-T Ethernet over fiber. The Data Connect 2178 Fiber Ethernet Extender supports auto-negotiation and manual mode on the twisted pair (TP) copper Ethernet side. With advanced features like LLP (Link Loss Pass-thru), FEF (Far-End Fault), Switch mode (store & forward, 1600 Bytes maximum frame size) or Ethernet extender mode (100/Full to 100/Full, Low latency, 9K Bytes packet support); the Data Connect 2178FEE is designed for customer premises equipment in metro LAN, campus, enterprise, and fiber to the building, curb, cabinet, house, neighborhood, and premise applications. By offering simple DIP switching settings, this Ethernet Extender can provide complete control over all Ethernet Extender settings include duplex and speed configuration. The Data Connect 2178FEE completely transparent to Layer 2 and Layer 3 protocols including IEEE 802.1q, VLAN tag, Q in Q STP, IPX, IP etc.
Features
Ethernet Extender with auto-change-forward (Switch) function
Auto-Cross over MDI/MDX in TP port
Supports far end fault (FEF) function.
Auto-Negotiation or Manual mode in TP port
Supports link fault pass through (LFP) Function
Supports LED indicator
Packet lengths up to 1600 bytes in Switch mode
Packet lengths are not limited in Ethernet Extender mode.
Specification
LAN Interface Specification
One RJ-45 female connector for straight or cross-over connection
Support 10/100Base-T/TX, Full, Half duplex n-way (Auto-Negotiation)
Supports Full, Half duplex, 10/100, speed manual selections.
Transmission Packet Rate for 10/100Base-T/TX: 14880 per second / 148800 per second.
Copper TP cable 4 pair Cat. 3 or 5 UTP
Optical Interface Specification
Transceiver Connector type:
ST, SC, and WDM
Wavelength (typically):
Multi-mode:       850nm
Single mode:    (<50 Km): 1310nm/ 1510nm up to 120Km
WDM:               1310/1550nm or 1550/1310nm (A/B Type) up to 60Km
General Specification
Complies with:
IEEE 802.3 10Base-T, 802.3u 100Base-TX and 100Base-FX standard
Temperature:
0 -50°C (Operating); 0-70°C (Storage)
Humidity:
20-80% non-condensing (Operating); 10-90% (Storage).
Power: Input:
(AC adapter) 90-250VAC, 24VDC Input, 18-36VDC, 48VDC input, 36-72VDC
Dimensions:
178.7mm x 251.6mm x 88mm (L x W x H)
Power Consumption:
<40W (8-slot full load)
Compliance:
FCC part 15, Subpart B, Class A, ANSI C63.4:2003, CE EN55022:2006, Class A, EN55024:1998+A1:2001+A2:2003, LVD: EN 60 950-1: 2001, & MTBF: 65,000 h (25°c)
Ordering Information
DCE/2178FEE
DCE/2178FEE-RM
DCE/2178FEE-2PK