The Data Connect
5248A-DSG 48-Port ADSL2+ DSLAM-SFP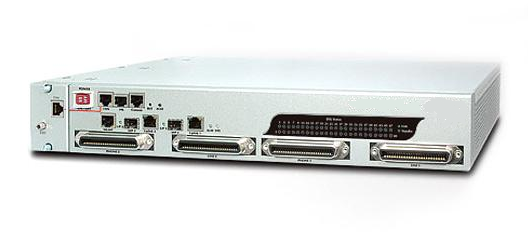 The Data Connect 5248A-DSG is a 48-Port ADSL/ADSL2/ADSL2+ mini IP DSLAM which equips with combo electrical (RJ-45) and fiber optical (SFP) uplink interfaces offering scalable and easy deployment for the network with small ADSL environment. With the built-in POTS splitter subscriber ports, the DCE 5248A-DSG performs a cost-effective solution for service providers to offer multiple subscribers excellent services.
Moreover, Data Connect 5248A-DSG supports local and remote managed capabilities of CLI, SNMP, and Telnet via RS-232 console port and Web GUI management interface. Via user-friendly Web GUI, the DCE 5248A-DSG can be managed by workstations running standard web browsers that provide the easy-to-use operation and convenient maintenance.
To enhance the network security, the Data Connect 5248A-DSG also provides features such as QoS, VLAN, Multicast, Bandwidth Management, Traffic Prioritization, and Access Control List. With the advanced QoS features, the DCE 5248A-DSG is an ideal solution for next generation broadband network to deliver rich video contents, DSL, POTS, VoIP service over ADSL2+ connection.
Application
Perfect Solution for NSP (Network Service Provider) to offer broadband services The Data Connect 5248A-DSG offers the benefit of high performance to central office co-location and MTU (Multi-Tenant Unit) / MDU (Multi-Dwelling Unit) markets. IT provides service of broadband data over existing copper wires without affecting the conventional voice service by 48 subscriber ports with built-in POTS splitter. The Data Connect IP DSLAM is the perfect solution for NSP with cost-effective and high-value central Management capability.
Features
48-Port ADSL / ADSL2 / ADSL2+ Subscriber Interface with Built-in POTS Splitter
DMT data rate: Downstream up to 25Mbps / Upstream up to 3Mbps
2 x 100Base-T or 2 x. min-GbE Uplink Interfaces
Web-based GUI Management
Local RS-232 CLI and Ethernet SNMP / Telnet / SSH / Management
Firmware Upgradeable via FTP
Configuration Backup and Restoration via TFTP
Supports IPSec / L2TP / PPTP VPN Pass-through
Supports 4K MAC address
Supports IEEE 802.1q Tag-based VLAN and Protocol-based VLAN
Layer 2 / 3 Filtering Based on MAC / IP / Protocol / Port number and Ether Type
Access Control List by MAC / IP / Protocol / Port number
Traffic prioritization (802.1p)
Support IGMP Snooping / Proxy per IGMP v1, v2, and v3
FAN Alarm Indicating
Temperature Monitoring and System Overheating Trap Functionality
Support IEEE 802.1d Spanning Tree Protocol and IEEE 802.3ad Link Aggregation
Specifications
Model
DCE 5248A-DSG / DCE 5248A-DSG-48VDC
Hardware Specification
Case
1.5U high box-type with rack-mountable enclosure
Ports
Uplink: 2 x RJ-45 (10/100/1000Base-T), 2 x SFP (1000Base-T/SX/LX/EX/ZX/LHX
MGMT: 1 x RJ-45 (10/100Base-TX)
Console: 1 x RJ-45 (RS-232 serial port, 9600, 8, N, 1)
Line: 2 x RJ-21 connectors
Phone: 2 x RJ-21 connectors
Fan: 2 x RJ-45
HK: 1 x RJ-50
LED Indicator
1 x SYS LED
1 x ALM LED
2 x Uplink LEDs
48 x ADSL LEDs
Software Specification
Standard
Compliant with ADSL standard
– ANSI T1.413 issue 2
– G.dmt (ITU G.992.1)
– G.lite (ITU G.992.2)
– G.hs (ITU G.994.1)
Capable of ADSL2 standard a
– G.dmt.bis (ITU G.992.3)
Capable of ADSL2+ standard
– G.dmt.bisplus (ITU G.992.5)
System
– Subscriber interface with built-in POTS splitter
– Downstream DMT data rate up to 25Mbps
– Upstream DMT data rate up to 3Mbps (Annex M)
– Distance up to 18kft
– 8 PVCs per x DSL port
– DHCP forward
– DHCP relay agent
– PPPoE relay
– IPSec / L2TP / PPTP VPN pass-through function
– PPPoA to PPPoE inter-working
Bridge Function
– Supports IPv4 packet
– Supports IEEE802.1d Ethernet bridge function between trunk Ether port and ATM VCs
– Supports static source MAC table provisioning, automatic source MAC learning block duplicate ones
– Support 4K static MAC address table
– 128 MAC address per x DSL port
– Supports IEEE802.1d Ethernet bridge function between trunk Ether port and ATM VCs
– Supports Rapid Spanning Tree Protocol (RSTP) for the trunk interfaces per IEEE 802.1w
– Supports Link Aggregation in IEEE 802.3ad for 2 GBE links to be aggregated together as logical link
– Support both LACP protocol (dynamic) for load sharing and failover in case of loss of Ethernet link
VLAN Function
– IEEE 802.1q Port-based / Protocol-based VLAN
– 512 non-stacked VLAN-D simultaneously ranging from 1 to 4095
– VLAN stacking and VLAN cross-connect
– IP Spoofing prevention
– MAC anti-Spoofing
– Port isolation functionally
– Static VLAN group and membership provisioning
Multicast Function
– IP multicast forwarding
– Complies with RFC2684 bridged play load encapsulation mode
– Up to 256 multicast groups and 512 copies simultaneously
– Up to 48 profile-based Multicast Access Control
– Limit maximum number of IGMP group joined per bridge port
– IGMP snooping / proxy per IGMP v1, v2, and v3
– IGMP proxy and IGMP snooping Selection
Security
– Supports layer-2 frame filtering based on MAC and Ether Type
– Supports layer-3 filtering based on IP, Protocol, and Port number
– IEEE 802.1x authentication
QoS
– Control the bandwidth occupied by broadcast, multicast, and unknown unicast (flooding)
– Rate-limit profile binding and 512 copies simultaneously
– Three Color Marketing (TCM) policer
– Ethernet rate limit per bridge port
– ToS (type of service) / DiffServ (differentiated services) stripped and priority queuing
– DSCP mapping to 802.1q
– Selectable adopted priority queue mechanism according to Strict Priority Queue (SPQ) and Weighted Fair Queue (WFQ)
– Configurable mapping function between ATM PVC and 802.1p priority queue
– Support IP CoS technology
Management
– Web based GUI management
– Local RS-232 CLI, and Ethernet SNMP / Telnet / SSH management
– Remote in-band SNMP / Telnet / SSH management
– Firmware upgradeable via FTP
– SNMP v1, v2c
Ordering Information
DCE 5248A-DSG                       48-Port ADSL2/2+ IP DSLAM (2 x GbE Combo, 100~240V AC)
DCE 5248A-DSG-48VDC        48-Port ADSL2/2+ IP DSLAM (2 x GbE Combo, -48VDC)