The Data Connect
2178EE-MCC Ethernet Extender & Media Converter Chassis

The Data Connect 2178EE-MCC is a metal-cased chassis system that can house up to sixteen stand-alone Ethernet Extender and Media Converters. This makes for an ideal central point. The Data Connect 2178EE-MCC includes two standard redundant power supplies, four cooling fans, and a secure and higher capacity housing four your network central point to contain and power up to 16 Ethernet Extenders and Media Converter. This chassis system is capable or hot-swap installation of Ethernet Extenders and Media Converters and Redundant Power Supplies. There is one cooling fan inside each redundant power supply and two additional fans that are fitted on the inside wall of the chassis to ensure good ventilation.
Features
Non-stop operation and minimal downtime
House up to sixteen Ethernet Extender or Media Converters
Hot-Swappable: Ethernet Extenders, Media Converters and redundant power supply modules
Redundant 100 ~ 240VAC 50 ~ 60Hz Internal Universal PSU or 48VDC Power input
Power redundancy: The other redundant power supply module is capable of taking over immediately if one of the power supply modules fails
Load sharing: Two internal power supply modules provided for load sharing purposes
Power isolation: Ethernet Extender or Media Converter bay power isolation ensures each bay is electricity isolated from each other
Over current protection: Fuse on PCBA for each Ethernet Extender Media Converter bay and power supply module
0°C to 45°C (32°F to 113°F) operating temperature range
Metal case, standard 19" rack-mount size, two-unit –height
Supports Rack Mounting installation
Specifications
Power Input:
100 ~ 240VAC, 50 ~ 60Hz Internal Universal PSU 48VDC, Consumption: 73.2W Max.
Dimensions:
440mm (W) x 276mm (D) x 90mm (H), (17.32" (W) x 10.87" (D) x 3.54" (H)), Standard 19" rack-mount size, 2-unit-height
Weight:
6.8Kg (14.96lbs)
Installation:
19" Rack Mounting
LED Indicators:
Per Unit, Power Status Chassis Power)
Operating Temperature:
0°C to 45°C (32°F to 113°F)
Storage Temperature:
-10°C to 70°C (14°F to 158°F)
Ambient Relative Humidity:
5% to 90% (non-condensing)
Regulatory Approvals:
ISO –Manufactured in an ISO9001 facility, Safety – UL60950-1
Emission Compliance:
CE Mark Class A; FCC Part 15 Class A
Diagram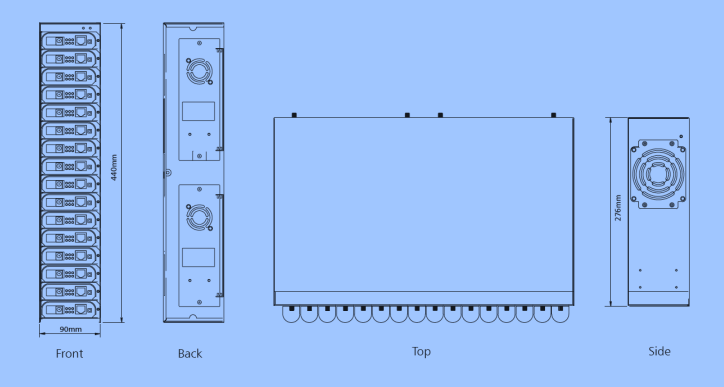 Ordering Information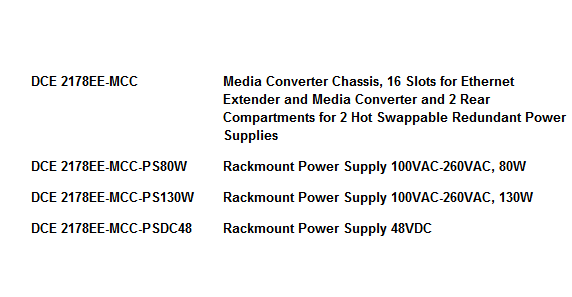 Call 301.924.7400 X25 for Special Sale Ordering Information on Option