The Data Connect V.3600LP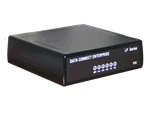 For industrial networks, data centers and remote management application that require high-speed connections, the Data Connect V.3600LP family of wire line data modems incorporates the latest advances in modem design to deliver efficient and reliable performance that is packaged for industrial and commercial applications. V3600LP series modems offer superior price/performance and robust features set that will meet or exceed your communications needs.
UNIVERSAL WIRELESS CONFIGURATION
Complex network configuration often incorporate a variety of data set interfaces, each requiring separate modem types. The result has been a requirement to stock seldom used parts, often in significant quantity.  Now, the DCE V.3600LP series offers an all-in-one solution for a wide range of applications. Packaged in either a polymer or metal case, and backed by a five year warranty, the V.3600LP series is capable of operating in either 2 or 4 wire configurations on dial up, leased line, or short haul networks. Protocol support includes V.34, V.32, V.32bis as well as Bell 212A and 103j.
With its standard power saving standby mode and instantaneous (zero character loss) recovery, the V.3600LP series reduces stocking and spares cost while providing additional project flexibility. V.3600LP series modems have been developed to meet the strident environmental and performance demands of the commercial and industrial applications. Every component, switch and connector is selected for its ability to withstand industrial environmental demands. V.3600LP series models may be housed in optional metal enclosures and are built to meet the most stringent criteria. Temperature ratings, for stringent example, range from -20  C to +70˚C. Versatile power supply options will satisfy any industrial application. Available in commercial and industrial standalone configurations
All In One Design- One Model to support 2-wire and 4-wire operation
Leased Line, Dial-up, short haul V.34, V.32, V.32bis
Standard Error Correction and compression AT command set Polymer or Metal Case
 7-14VDC (power pack included) or 48VDC
 Specifications
Compatibility
V.34, V.32bis, V.32, V.22bis, V.22, V.23, V.21, Bell 212A, and Bell 103j

DTE Interface
Physical- DB9 connector Electrical-RS-232F (V.24).  Asynchronous: Auto baud or selectable format and rates to 115.2Kbps with V.34 or 57.6 Kbps with V.32bis.

Auto Dial Modes
Standard AT compatible dials command or DTR dial of stored number.
Answer Modes
Standard auto answer or manual answer under DTE control.
Error Correction
V.42 and MNP 2-4 error correction
Data Compression
V.42bis and MNP5 data compression
Configuration Control
Standard AT commands for both local and remote configuration
Diagnostic
V.54 through AT commands
Network Interface:
Dial-up: 2-wire pulse or DTMF XMT level: 12dBm RCV sensitivity: -43dBm
2-wire and 4-wire Leased and short –haul
XMT level: Adjustable RCV sensitivity: -43dBM
Power:
Standalone units automatically adjust to 7-14VDC unregulated, or regulated 5VDC ± 5% (ripple <100mv)
Optional 48VDC supply
115VAC->9VDC Wall Transformer included with all standalone configurations.
Power Consumption
Operational Mode- 85mA@12VDC
Standby Mode -38mA@12VDC
Standby to Operational Transition Time-
Nearly instantaneous- will detect first character or ring.
Environmental
Operating temperature range: -20˚C to 70˚C
Humidity: 90% non-condensing
Approvals–
FCC Part 68& Part 15, Class A Optional: International approvals available.
Physical
Dimensions: 5.3"L x 5.05"W x 1.53"H.
Weight: 12oz
Ordering Information
DCE/V3600LP               Standalone 115VAC
DCE/V.3600LP-DC        Standalone 48VDC