The Data Connect ST3342E-003-4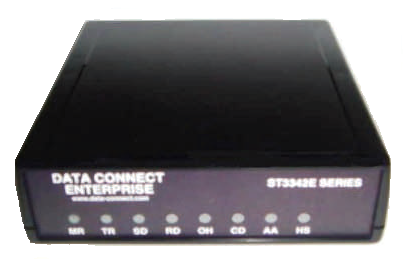 For data center and remote network applications that require low-speed connections, the Data Connect ST3342E-003-4 commercial modem incorporate the latest advances in modem design to deliver efficient and reliable performance. The Data Connect ST3342E-003-4 commercial modem has been developed to meet the most stringent environmental and performance demands of the commercial and industrial application. Every relay, transformer, capacitor, switch and connector is selected for its ability to withstand industrial environmental demands. At connect speeds of 33600bps and below, our patented Quick Connect features reduce modem connect time by as much as 50%. The Data Connect ST3342E-003-4 commercial modem is available in commercial single port standalone configurations. Rack mount configurations are also available.
Features
Standard 2-wire Dial-up
4-wire leased line
AT command set
Standard error correction and compression
RS232 & RS485 terminal interface
Asynchronous and Synchronous DTE support
Exclusive quick connect
Specifications
Compatibility:
V.34bis, V.34, V.32bis, V.32, V.22bis, V.22, Bell 212A, Bell 103J
DTE Interface:
RS232C (V.24), Synchronous or Asynchronous- Auto baud or selectable formats and rates to 155.2kbps.Industrial model includes RS485
Auto Dial modes:
Standard AT compatible dial commands or DTR dial or stored number
Answer modes:
Standard auto answer or manual answer under DTE control
Error Correction:
V.42 and MNP 2-4 error correction.
Data Compression: V.42bis and MNP5 data a compression
Configuration Control:
Standard AT commands for both local and remote configurations.
Diagnostic:
V.54 through AT command
Network Interface:
Dial-up 2-wire Pulse or DTMF
XMT level—12dBm
RCV sensitivity—43dBm
2-wire leased and short-haul
XMT level – adjustable
RCV sensitivity –43dBm
Power:
Standalone single port standard unit automatically adjust to 9VAC or 9-14VDC
Rack-mount:
Standard CC-2016 rack automatically adjusts to 85-265VAC, 27-440Hz. Optional DC supply automatically adjusts to positive or negative 36-75VDC
Environmental:
Commercial Unit- Operating temperature range 20°C to +70°C
Humidity- 90% non-condensing
Approvals:
FCC Part 68 & Part 15, class A
Optional International approvals are available
Physical:
Commercial Unit- Dimensions
5.30"L X 5.05"W 1.53"H
Weight –
12oz. Rack-mount unit- Fits CC-2016 rack
4.73"L x 4.60"W x 80"H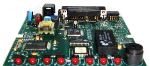 Ordering Information
DCE/ST3342E-003-4      V.34 33.6Kbps Standalone Dial Only Security 9VAC or 9-14VDC
DCE/ST3342R-003-4      V.34 33.6Kbps Rackmount Dial Only Security