The Data Connect MIU202T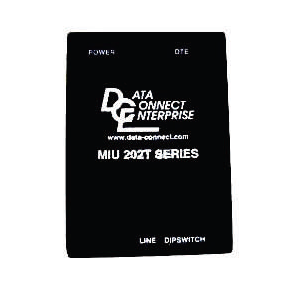 Bell 202T continues to be the standard of choice in many utility and industrial multi-drop data communication applications. The Data Connect Enterprise MIU202T can be powered from a wide range of AC and DC voltages, is surge protected on both power and analog lines, and will operate in extreme heat and cold. Ideal for multi-drop applications over leased lines and private lines.
The MIU202T is a Bell Standard 202T modem designed for asynchronous operation at 0 to 1200bps over voice grade lines and pilot wires. The modem is intended for use on leased lines and private lines and provides half-duplex communications on 2-wire lines, or full-duplex on 4-wire lines.
Most modem manufactured has abandoned the Bell 202T in favor of the much higher speed modulation preferred in dial-up systems. However, Bell 202T remains the standard of choice in many utility and industrial applications where relatively small amounts of data are to be transmitted in multi-point networks.
To meet this continued demand, Data Connect Enterprise has added the MIU202T to its range of communications Interface Units (see spate brochure).
The MIU202T can be powered from any AC or DC voltage in the range of 48V to 200V. A 9-36VDC version is also available. It is designed to work in extended temperatures ranging from -40°C to +80°C, and is surge protected to 8kV, double the voltage requirements of IEC801-4 standard.
All of this bundled in a 5-3/8" x 4" x 1-3/8' non-metallic enclosure, suitable for desktop o wall mounting. Rackmount cards are also available for the Data Connect Enterprise "Myriad" system (see separate brochure).
Features
0-1200bps, Leased Line AC/DC Powered Substation Hardened Bell 202T
0-1200bps Over Voice Grade Leased Lines
Point-to-Point or Multi-Point
48 to 220V AC/DC Power Supply
9-36VDC Optional Power Supply
IEC901-4 Surge Protection
-40°C to +85°C Operating Temperature
For Meter, RTUs, SCADA, etc.
Specifications
Data Rate:
Asynchronous   0-1200bps over voice grade leased lines or pilot wires
Modulation:
Bell 202T Phase Coherent, Frequency Shift Keyed (SFK)
Operation:
Full Duplex Over 4-Wire Leased or Private Lines
Half Duplex Over 2-Wire Leased or Private Lines (Constant or Switched Carrier, Dip Switch Selectable)
Power Supply:
48VAC/DC (Optional 9-36VDC)
Power Consumption:
15mA @ 48VDC; 7.5mA @ 115CDV; 7.5mA @ 125VDC
Digital Port:
RS232 with DB9 Connector
Analog Port:
RJ11
Power Connector:
3-Pin with Screw Terminals for Customers Supplied Cable
Case Size:
5-3/8" x 4" x 1-3/8"
Surge Protection:
(Power Line): 8kV [Exceeds IEC801-4]
Surge Protection:
(Analog Line): 3.75kVAC
Operating Equipment:
-40°C to +85°C, 0 to 95%, Humidity (non-condensing)
Carrier Frequencies:
Bell 202T…
Mark: 1200Hz ± 0.1%
Space: 2200Hz ± 0.1%
Line Independence:
600ohms
Anti-streaming:
45 seconds or more
Transmitter Output Level: 
0 or -10dBm
 Receive Sensitivity:
-33 or -43dBm
RTS/CTS Delay:
1, 12, 35 or 50 msec
Carrier Detect Delay:
8.5msec
Soft Carrier Turnoff:
8.3msec
Test Features
Analog Loop
Ordering Information

DCE/MIU202T               Bell 202T 0-1200bps Standalone 2/4 Wire Leased Line & Multi-polling 48-220VAC
DCE/MIU202T-LV          Bell 202T 0-1200bps Standalone 2/4-Wire Leased Line & Multi-pooling 9-36VDC