Data Connect IG144 SERIES
RUGGEDIZED MODEMS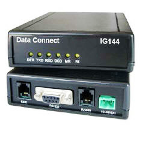 The Data Connect DCE/IG144 high-speed V.32bis dial-line modems are designed and manufactured for rugged industrial applications over the Public Switched Telephone Network (PSTN). The DCE/IG144 utillizes the industries latest V.32bis modem technology to deliver outstanding features, performance, and reliability in one cost-effective solution.The DCE/IG144 modem are ideally suited for industrial communication applications including SCADA systems, RTS, traffic monitor and control, and industrial automation networks.The DCE/IG144 supports RTUs equipped with an EIA RS-232 or RS-485 serial port. Data communications speeds up to 14.4 kbps in reception and up to 9.6 kbps in transmission are supported.
.
The modems incorporate the latest data-compression and error correction standards for improved data transmission and reception over marginal and poor-quality telephone lines. Multiple levels of security with password verification and security call back keep your valuable data secure from intruders.The DCE/IG144 modems are powered by a wide range of AC and DC power supply voltages. Its low power consumption and low stand-by current technology design makes the DCE/IG144 ideal for a battery-powered system as well as regular AC powered operations.
Specifications
Data Rate Support
Data modem:
ITU-T V.32bis: Up to 14.4bps receive & 9.6kbps transmit
V.32bis: Up to 14400bps
V.32: Up to 9600bps
V.22bis: Up to 2400bps
V.21: 0-300bps
Bell 212A: 1200bps
Bell 103: 0-300bps
Fax modem:
Send & receive fax up to 14.4 kbps
V17, V29, V27ter, and V21 channel 2
EIA/TIA 578 Class 1, T.31 Class 1.0, and Class 2
Data Format:
Asynchronous, 7, 8 or 9 data bits, parity,
10- or 11-bit character with 1 or 2 stop bits
Modulation
Fully compatible with ITU-T V.32bis/V.22bis/V.21
Bell 212A and Bell 103 compatible modes
Transmission Line Interface
2 wire duplex over PSTN
connector: RJ-11C
DTE/RTU Interface
The modem provides serial ports to support RS-232
 or RS-485 (selectable) interface standards.
RS-232 Interface
Connector: DB9-F
Signals: RTS, CTS, CD, TD, RD, DTR, DSR, RI
RS-485 Interface
Connector: RJ-11C
Signal: 4-wire full-duplex or 2-wire half duplex
TX+, TX-, RX+, RX-
Front Panel Indicators
LED. Indicators:
DTR, TXD, RXD, DCD, DSR, RI
Power Supply Specifications
Three models support various power options:
Standalone: 90-264VAC
Standalone: 100-400VDC
Standalone: 10-48VDC
Power Consumption:
Idle mode: 65mA@12V, 0.78 watts
Normal mode: 75mA@12V, 0.9 watts, typical
Mechanical Specifications
Enclosure Dimensions: 
4.1" (W) x 5.0" (L) x 1.3" (H)
104mm (W) x 127mm (L) x 33mm (H)
Weight: 0.5 pound, without AC power module
Environment Specifications
Temperature:
Operation:         -40° to +85°C
Storage:           -40° to +85°C
Humidity:
Up to 95% non-condensing
Dry Contact Detection (optional)
Two optical isolated dry contact detections are provided
for external devices (consult factory for additional information)
Key Features 
Worldwide Operation Support:
– ITU-TV.32bis/V.32
– V.22bis/V.22/V.23/V.23/V.21
– Bell 212A/Bell 10 3
– V29 FastPOS
– V.22bis fast connec t
Data Compression:
– V.44/V.42bis/MNP 2
Error Correction :
– V.42/MNP 2/MNP 4
DTE/ Host Interface
EIA RS-232 and RS-485
Embedded AT command set
Sixty-three embedded and upgradeable country profiles for worldwide homologation
NVRAM for configuration and country profile storage
Built-in remote diagnostics and configuration management
Heavy-duty surge protection provided at power supply and phone line interface
Supports wide range of AC & DC power supply options
Supports DC power supplied from DTE or DB-9 connector
Wide range of operating temperatures
Optional mounting kits for DIN Rail mounting or wall mount
Ordering Information
DCE/IG144
standalone with AC power module,
90-264VAC
DCE/IG144DC
standalone, DC power, 10-48 VDC
DCE/IG144HV
standalone with AC power module
90-264VAC or 100-400VDC
DCE/IG202T-DIN
DCE EN2 Din Rail Kit