DATA CONNECT
CDMA Cellular Routers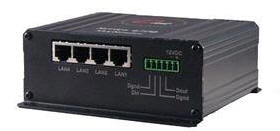 Data Connect CDR-CDMA Series has been designed to meet the demanding requirements of wireless machine-to-machine communications for high volume OEM and VAR implementations. The CDR-CDM Series allows customers to quickly and economically integrate wireless IP and GPS capabilities into real-time M2M networks with a degree of reliability that could never be obtained using wireless modems. Data Connect CDR-CDMA Series wireless routers provide OEM and VAR customers with a cost effective private label product that incorporates the "must have" features found on Data Connects popular line. Standard features include Ethernet and serial interfaces, as well as discrete I/O and an SMS capability. Unlike the majority of the Ethernet capable wireless modems being deployed the CDR-CDMA series is designed to manage an entire LAN segment, simultaneously routing traffic between a combination of serial and Ethernet devices and one or more head-end servers.
A completely self-contained, industrial-strength, 4-port Ethernet router, the Data Connect CDR-CDMA-4 Series provides always available broadband network connectivity for applications such as public safety, data center backup, and disaster recovery where bandwidth is critical. A key component of every Data Connect CDR-CDMA Series' value proposition is Data Connect's unique TCO+, developed to reduce on-going operational costs associated with industrial wireless networks. TCO+ incorporates an array of high value features such as remote web-based administration, online firmware updating, online network logging and monitoring, and SMS control and management commands.
The  Data Connect CDR-CDMA-4  Series combines CDMA EVDO technology and built in GPS capabilities with the legendary Data Connect CDR-CDMA Series platform to provided high-speed wireless communications that extend IP networks "over the horizon" and can keep track of where "over the horizon" they end.
Features
Always available IP—all networks
Ethernet, Serial, and USB connectivity
Built-in GPS (CMDA/HSPA models)
Automation and navigation applications
SMS out-of-band  management
Open XML interface
No charge development environment
Benefits
High reliability cellular IP
Prebuilt applications – time-to-market
Wireless applications application platform
Scalable PLC capabilities
Open development environment
Open interfaces
Description
The first wireless device to step outside the "wireless modem" paradigm and provide true IT quality routing capabilities for wide area networking over cellular and PCS networks. Today CDMA cellular routers are providing reliable data communications on CDMA, GSM and HPA/UMTS networks around the world.
Data Connect has a large selection of wireless routers for every network, all built on the Linux operating system and complete with firewall, GRE tunneling, and SMS messaging capabilities. A rich set of options like an industrial automation (PLC) application, IPsec, AVL/LBS navigation, and XML developers interface round out the package. Data Connects cellular routers meet your local communication needs with Ethernet, RS232, RS485, and USB connectivity, and full complement of industrial I/O modules that can be added on.
Perhaps your application needs a home. Are you looking for wireless application platform for your product that has been tested and approved on all major network? Do you need and open platform with a no-charge development kit and plenty of APIs to get you going quickly? Data Connect cellular wireless routers are the only wireless application platform available providing an open source industrial quality development platform complete with a wireless router implementation that is approved for operation on all major networks reducing cost, complexity and component count. The savings are yours when your wireless box doubles as application platform.
Specifications
Wireless WAN
CDMA 1x EV-DO (IS 856)
CDMA 1xRTT (IS2000)
Dual Band (800mhz & 1.9Ghz)
GPS-gpsOne
Two Way SMS capable
LAN
Ethernet- RJ45
Auto, Full or Half Duplex
10 or 100 Base T – Auto polarity sensing
Serial – RS232 (DB9)
Serial – RS485 (terminal block)
USB Host – Type A (500ma)
Discrete I/O
Contact Closure (Input) Relay Driver (Output) I/O Expansion Available
Platform
OS-Linux 2.6
Processor – ARM9 (Atmel)
Memory (RAM) – 64 MB
Memory (Flash – 256 MB
Release Distribution/Development Kit – No Charge
Power and Environmental
Operating and Storage Temperature Range
-30°C to +70°C – Humidity 90% non-condensing
Input Power
9-24 VDC
Power Consumption @ 12VDC
Radio connected to serving network – 190ma (typical)
Ethernet not connected – variable due to network signal strength
Dimensions
5.25"L x 5.3"W x 1.2"H Weight: 14oz without wall power adapter
Ordering Information