Data Connect
Cellular Data Link CDL 115.2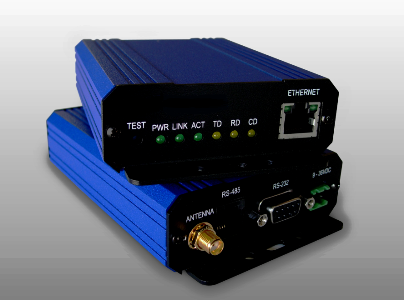 The Data Connect cellular based CDL115.2 Cellular Data Link series modem/router is the latest industrial grade wireless communication devices, offering a cost effective two-way connections between a central host computer and remote RTU such as SCADA equipment and meters over CDMA/1xRTT and GSM/GPRS networks.  The C-Link device supports RTUs and meters with RS-232 or RS-485 serial ports at speeds from 1200 to up to 115,200 bps.
The Cellular Data Link modems provide reliability and ease of installation, making it an ideal low cost alternative to wired devices for connecting remote devices to host data acquisition equipment.  The embedded TCP/IP protocol stacks support operation over CDMA/1xRTT and GSM/GPRS data networks. Operation over circuit switched data (CSD), SMS, dynamic IP, and mobile IP (static IP) modes are all supported.
The Cellular Data Link modem includes a dual-band CDMA/1xRTT,  a quad-band GSM/GPRS or 3G Edge transceiver.  Power to the modem can be a DC voltages source, or when connecting the modem to an AC power source, a wide range AC to DC power converter module is included. Standard dual band antenna or external high gain antenna is supported by a panel-mounted SMA RF connector at the rear panel.
Features
Dual band 800/1900 Mhz CDMA or Quad band GSM GPRS cellular or PCS support
Selectable data rates support for DTE from 1200 to 115,200 bps
Selectable EIA RS-232/V.24 (DB-9F) and RS-485 (RJ-11C) DTE serial port interface
Support CSD, dynamic IP, and Mobile IP (static IP) protocols
Over-the-air programming (OTASP) supported
Power by a wide range of AC & DC power supply options:
9 to 36 volts DC
100 – 264 volts AC 50/60Hz
Wide range of operating temperatures: -30 to +85°C
Operating Features:
Standard portable dual band antenna
Extend high gain antenna
NEMA 4X enclosure with internal AC or DC power supply
Specifications
CDMA:
Dual band supports 800/1900 MHz
IS-2000 Release 0 (CDMA 2000 1X)
IS-95A/IS-95B
IS-707A service options IS-835 (TCP/IP/PPP)
CSD, Simple IP, Mobile IP (Static IP)
Data Rate: 14.4 kbps (CSD), 153 Kbps (1xRTT)
GSM:
Quad band transceiver supports 850/900/1800/1900 MHz
TX Output Power:
850 MHz:  Class 4 (2W) or class 5 (0.8W)
900 MHz:  Class 4 (2W)
1800/1900 MHz:  Class 1 (1W)
RX Sensitivity:
850/900 MH: -106 dBm, typical
1800/1900 MHz:  -105 dBm, typical
GPRS Data Features
Maximum baud rate:  85.6 kbps
Coding scheme: CS1-CS4
Multi-slot class 8 (4 down, 1 up)
Class B GSM 07.10 multiplexing protocol
Antenna Interface
The modem provides a panel mount RF connector to support various antenna options. The antenna will meet the following specifications:
Frequency:            800-1990 Mhz
Connector Type: SMA female
Impedance:          50 Ohms
Serial Port Interface:
The Cellular Data Link modem's serial ports support two types of interface standards, RS-232 or RS-485, selectable
RS-232:
Connector:    DB-9F
Signals:          RTS, CTS, CD, DTR, DSR, TD, RD
RS-485:
Connector:    RJ-11C
Signals:          TX+, TX-, RX+, RX-  (2 or 4-wire )
Data Rate Support:
Data speed:   1200 to 115,200 bps, asynchronous
Data Format:                  7-E-1, 7-O-1, 8-N-1, 8-E-1, 8-O-1
Front Panel Indicators & Controls
LED Indicators:
PWR, LINK, ACT, TD, RD, CD
Test Button:
Provide self test, RSSI and system reset
Power Supply Specifications
Power Input:                 9 to 36 VDC:
AC to DC adapter:      100-264 VAC, 50/60Hz
100-400 VDC
Power Consumption:
Idle mode:            1.0 watts
Peak power:          6.0 watts, pulse
Average:                4.0 watts, typical
Mechanical Specifications
Enclosure dimensions:
3.3" (W) x 4.2" (L) x 1.2" (H)
84mm (W) x 107mm (L) x 30mm (H)
Weight:   9 oz, without AC power module
Environment Specifications
Temperature:
Operation:  -30o to + 85o C
Storage:  -40o to +85o C
Humidity:
Up to 95 % non-condensing
Ordering Information