The Data Connect ST202TE
For years, the Bell 202 modem has delivered reliable low speed multi-point communications. Today, this device still enjoys great popularity due to its ability to communicate under adverse conditions. The Bell 202 remains the right choice for telemetry applications, control system, transaction application, and for reliable data deliver over RF or cellular connections.
The Data Connect ST202TE offers a modem implementation of this classic modulation standard. In this design, we have utilized the latest semiconductor technology to guarantee a level of performance and reliability that cannot be matched by older designs.
The industrial rated Data Connect ST202TE is housed in a metal enclosure and is built too meet the most stringent criteria. Temperature ratings, for example, range from -40°C to +85°C. Versatile power supply option will meet most industrial applications.
The ST202TE was designed, however, to allow implementation of a wide variety of OEM applications. Like all Data Connect designs, it is microcontroller based so that it may support custom interfaces and protocols. In addition, the line interface of the ST202TE is capable of supporting, either leased circuits, dial circuits, or short hall twisted pair.
The ST202TE is available in out standalone or rackmount configurations. In addition, this device is available at the board level for OEM applications.
Features
Compatible with all standard Bell 202S or 202T modems
Engineered and manufactured to industrial standard with metal enclosure
Easy to configure
4-Wire Leased (202T) 2-Wire Leased Line (202S)
AC or DC Power
Specifications
Compatibility: 
Bell 202S, Bell 202T
DTE Interface:
RS-232C (V.24) 0-1800bps
Configuration control: 
Parameters set through switches
Line Interface:
Standard 4-Wire Leased
Standard 2-Wire Leased
Optional 2-Wire Dial
Line Diagnostics:
DTE and modem generated test patterns
Local Analog Loopback
Local Digital Loopback
Remote Digital Loopback
Transmit Power:
Adjustable in 2db increments from 0dBm through -14dBm
Power:
Standalone unit – Automatically adjusts 9VAC or 9-14VDC
-Power Supply Options-             5.5-14VDC
-Rackmount- Standard CC-2016 Rack automatically adjusts to 85-265VAC, 27-440Hz. Optional DC Supply automatically adjusts to positive or negative 36-75VDC
Operating Environment:
-40°C to +85°C
Humidity – 95% non-condensing
Approvals:
FCC Part 68 & Part 15, Class A
Optional International Approvals are available
Physical: 
Standalone Unit-            Dimensions 6.19"L x 5.12"W x 1.75"H
Weight 30oz (Metal Enclosure)
Rackmount Unit-            Fits ST-2016 Rack 4.73"L x 4.60"W x .80"H
Weight 9oz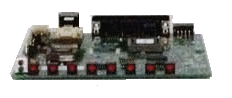 Ordering Information
DCE/ST202TE-037-4                  Bell 202T 1200bps Standalone 2/4-Wire Leased Line 9VAC or 9-14VDC/ 100-240VAC/ 100-400VDC
DCE/ST202TR-037-4                  Bell 202T 1200bps Rackmount 2/4-Wire Leased Line