The Data Connect
5224A-DSG 24-Port ADSL2+ DSLAM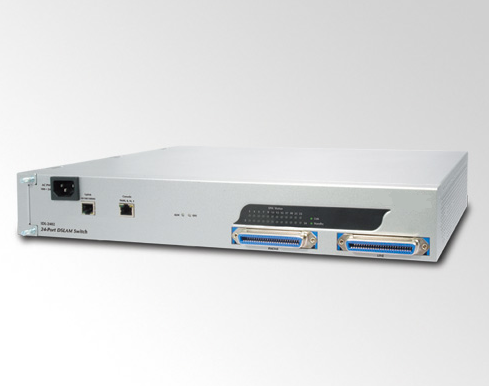 The Data Connect 5224A-DSG is a 24-Port ADSL2/ADSL2+ mini IP DSLAM with one 1000Base-T uplink Interface offering scalable and easy deployment for the network with small ADSL environment. With the built-in POTS splitter subscriber ports, the DCE 5224A-DSG performs a cost-effective solution for network service providers to offer multiple subscriber excellent services.
Moreover, the 5224A-DSG supports local and remote managed capabilities of CLI, SNMP, Telnet via RS-232 Console Port and Web GUI management interface. Via the user-friendly Web GUI, the 5224V-DSG can be managed b workstations running standard web browsers that provide the easy-to-use operation and convenient maintenance.
To enhance the network security, the DCE 5224A-DSG also provides features such as QoS, VLAN, Multicast, Bandwidth Management, Traffic Prioritization, and Access Control List. With the advanced QoS features, the DCE 5224A-DSG is an ideal solution for next generation broadband network to deliver rich video contents, DSL, POTS, and VoIP service over ADSL2+ connection.
Application
Perfect Solution for NSP (Network Service Provider) to offer broadband services The DCE 5224A-DSG offer the benefit of high performance to central office co-location and MTU (Multi-Tenant Unit) / MDU (Multi-Dwelling Unit) markets. It provides service of broadband data over existing copper wires without affecting the conventional voice service by 24 subscriber ports with built-in POTS splitter. The Data Connect IP DSLAM is the perfect solution for NSP with cost-effective and high-value central management capability.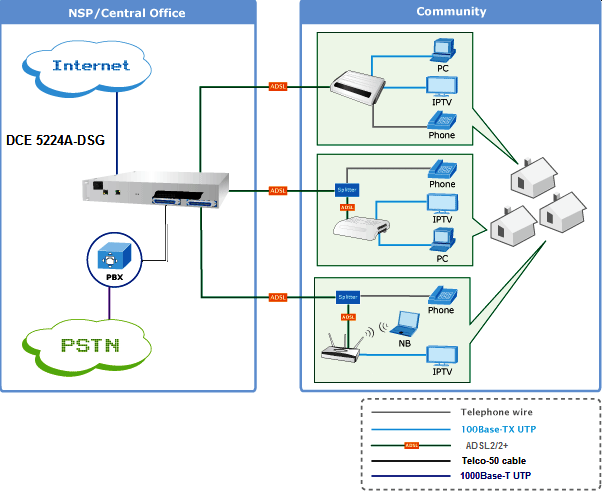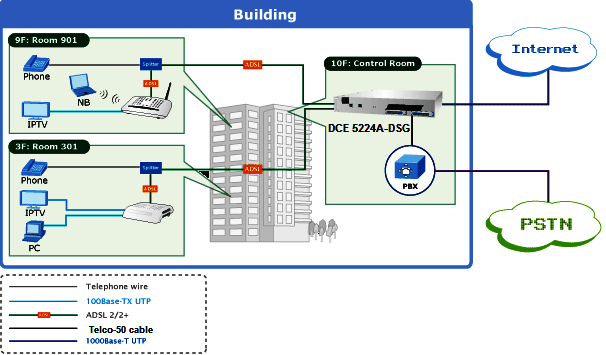 Features
24-Port ADSL/ADSL2/ADSL2+ subscriber interface with built-in POTS splitter
DMT data rate: Downstream up to 25Mbps / Upstream up to 3Mbps
1000Base-T uplink interface
Web GUI based management
Local RS-232 CLI and Ethernet SNMP / Telnet / SSH management
Firmware upgradeable via FTP
Configuration backup and restoration via TFTP
Supports IPSec / L2TP / PPTP VPN pass-through
Supports 4K MAC address
Supports IEEE 802.1q Tag-based VLAN and Protocol-based VLAN
Layer 2 / 3 filtering based on MAC, IP, Protocol, Port number and Ether Type
Access Control List by MAC / IP / Protocol / Port number
Traffic prioritization(802.1p)
Supports IGMP snooping / proxy per IGMP v1, v2, and v3
FAN alarm indicating
Temperature monitoring and system overheating trap functionality
Specifications
Model
DCE 5224A-DSG
Hardware Specifications
Case
1.5U high box-type with rack-mountable enclosure
LED Indicators
1 x SYS LED
1 x ALM LED
1 x Uplink LED
24 x ADSL LEDs
Ports
Uplink: 1 x RJ-45 (10/100/1000Base-T)
Console: RS-232 Serial Port (9600, 8, N, 1)
Line: 1 x RJ-21 Connector
Phone: 1 x RJ-21 x Connector  
Software Specification
Standard
Compliant with ADSL standard:
– ANSI T1.423 issue 2
– G.dmt (ITU G.992.1)
– G.lite (ITU G.992.2)
– G.hs (ITUG.994.1)
Capable of ADSL2 standard:
– G.dmt.bis (ITU G.992.3)
Capable of ADSL2+ standard:
– G.dmt.bisplus (ITU G.992.5)
System
– Subscriber interface with built-in POTS splitter
– Downstream DMT data rate up to 25Mbps
– Upstream DMT data up to 3 Mbps (Annex M)
– Distance up to 18 kft
– 8 PVCs per xDSL port
– DHCP forward
– DHCP relay agent
– PPPoE relay agent
– IPSec / L2TP / PPTP VPN pass-through function
– PPPoA to PPPoE inter-working
Bridge Function
– Supports IPv4 packet
– Supports IEEE802.1d Ethernet bridge function between trunk Ether port and ATM VCs
– Supports static source MAC table provisioning, automatic source MAC learning and block duplicate ones
– Supports 4K static MAC address table
– 128 MAC address per x DSL port
VLAN Function
– IEEE 802.1q Port-based / Protocol-based VLAN
– 512 non-stacked VLAN-ID simultaneously ranging from 1 4095
– VLAN stacking and VLAN cross-connect
– IP Spoofing prevention
– MAC anti-Spoofing
– Port Isolation functionally
– Static VLAN group and membership provisioning
Multicast Function
– IP multicast forwarding
– Complies with RFC2684 bridged play load encapsulation mode
– Up to 256 multicast group and 512 copies simultaneously
– Limit maximum number of IGMP groups joined per bridge port
– IGMP snooping / proxy per IGMP v1, v2, and v3
– IGMP proxy and IGMP snooping Selection
Security
– Supports Layer-2 frame filtering based on MAC and Ether Type
– Supports Layer-3 filtering based on IP, Protocol, and Port number
– IEEE 802.1X authorized
QoS
– Control the bandwidth occupied by broadcast, multi-cast, and unknown unicast (flooding)
– Rate-limit profile binding per bridge port
– Three Color Marketing (TCM) policer
– Ethernet rate limit per bridge port
– ToS (type of service)  / DiffServ ( different services) stripping and priority queuing
– DSCP mapping to 802.1p
– Selectable adopted priority queue mechanism according to Strict Priority Queue (SPQ) and Weighted Fair Queen (WFQ)
– Configurable mapping function between ATM PVC and 802.1p priority queue
– Supports IP CoS technology
Management
– Web based GUI management
– Local RS-232 CLI, and Ethernet SNMP / Telnet / SSH management
– Remote in-band SNMP / Telnet / SSH management
– Firmware upgradeable via FTP
– SNMP v1, v2c
Ordering Information
DCE 5224A-DSG                                   24-Port IP DSLAM (Annex A)