Data Connect 2178LRE
Ethernet First Mile EFM Long Reach Ethernet Extender (LRE)
The DCE 2178LRE is a Long Reach Ethernet Network Extender (LRE) designed to provide bonded, high-speed services over SHDSL on existing copper infrastructure using standards based on EFM (Ethernet in the First Mile) technology (2Base-TL). EFM, also known 802.3ah, is a collection of protocol specified in IEEE 802.3 defining Ethernet access network, I.E. first or last mile. With Wide, Metro and Local Area Networks already standardized, EFM allows a continuous Ethernet network across the globe, eliminating non-native transports such as Ethernet over ATM from access networks. EFM also addresses other issues, required for mass deployment of Ethernet services, such as operations, administrations & management (OAM) and spectral compatibility with existing technologies such as voice, ADSL, VDSL and SHDSL. The DCE/2178LRE is a bridge mode modem that delivers Ethernet services with symmetrical bandwidth at rates up to 22.8Mbps with four bonded copper pairs. This "Pure Ethernet" solution provides a seamless integration into today and tomorrow's networks. The modem operates in point-to-point connections between remote office and enterprise headquarters, providing business-class Ethernet service at symmetrical high–speed connectivity that is ideal for small-to-medium enterprises.
Features
Extends Ethernet service to sites with existing copper infrastructure
EFM bonding (PAF, PME Aggregation Function) up to 22.8Mbps (4 pairs)
Flexible configuration as CPE or CO
Supports EFM OAM complying with IEEE 802.3ah
Low Delay, Jitter and Packet Loss for delay sensitive application
Comprehensive and easy OAM&P function for provisioning and management
QOS feature guaranteed Ethernet service
Web-based GUI for setup, configuration and management
Menu-driven interface for local control via console or telnet
Password protected management and access control list for administration
Supports firmware upgrade via web
Typical Ranges (26 AWG)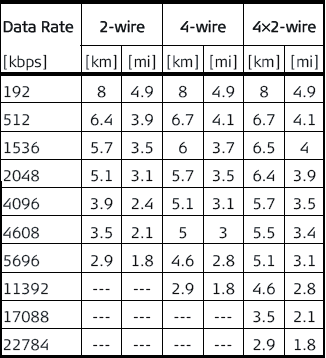 Specifications
Ports
Connector: RJ45, 8 pins
WAN Interface
SHDSL.bis: ITU-T G.991.2 (2004) Annex AF/BG
Encoding scheme: 16-TCPAM, 32-TCPAM
2Base-TL, 64/65-oclet encoding
EFM bonding (IEEE 802.3ah PAF)
Maximum date rate is 22.8Mbps for 8-wire mode
(5.7Mbps/Port x 4Port=22.8Mbps)
Impedance: 135ohms
LAN Interface
Four RJ45 Connectors
4-Port Switching hub
10/100 Base-T auto-sensing and auto-negotiation
Auto-MDI/MDI-X (Auto-Crossover)
802.1d Transparent Bridging
QOS
Ingress Rate control
Egress Traffic shaping
Classification based on Port Base / VLAN Tag /DSCP
4 Priority Queues
WRR(Weighted round-robin)/ BE(Best Effort) / SP(Strictly Priority)
VLAN
802.1Q Tag-Based VLAN
Port-Based VLAN
Port-Based Q-in-Q
Priority Re-mapping
VLAN Trunk mode
Management
Easy to use web based GUI for quick setup configuration and management
Menu-driven interface/Command line interface (CLI for local console and telnet access
Password protected management and access control list for administration
SNMP v1/v2 (RFC1157/1901/1905 agent and MIB II (RFC1213/1493)
EFM OA (IEEE 802.3ah)
Software upgrade via web-browser/TFTP
LEDs
WAN Link/Activity, LAN Link/Act/Speed
System: Power, Alarm and Management
 Standard
ITU-T G.991.2, IEEE802.3, 802.3u, 802.3ah, 802.3ad
Power
DC 9V via AC power adapter
Power Consumption
9W
Dimensions (D x W x H)
168 x195 x48mm
Weight
1.3Kg
Temperature
0~50°C (Operating), 0~70°C (Storage)
Humidity
10~90% non-condensing
Certification
CE, FCC, RoHS
MTBF
35, 00 hours
Ordering Information
DCE/2178LRE2-2PK                              4 port LAN extender, 2-wire, 5.7Mbps, 120VAC
DCE/2178LRE4-2PK                              4-port LAN extender, 4-wire, 11.4Mbps, 120VAC
DCE/2178LRE8-2PK                              4 port LAN extender, 8-wire, 22.8Mbps, 120VAC