Data Connect IG192HFP-OEM
 Modem for Industrial Communication Applications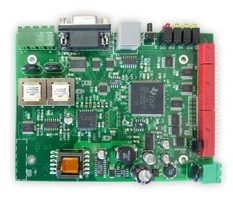 Design for industrial communication applications, Data Connect's IG192HFP-OEM embedded leased line modem module offers compact size and high performance for point-to-point and point-to-multipoint networks operating up to 19200 bps. The serial interface with RS-232 level is designed to interface with any system controllers and no special device driver required.
The IG192HFP-OEM embedded module is a complete modem ready to integrate into any host system. The easy to use serial interface drastically reduces development time and cost for system designers. The compact size and low power consumption makes it ideal for any systems with communication requirements.
Features
Complete modem for TELCO leased line or private line
Speeds selectable from 19200, 9600, 4800, 2400 and 1200 bps (202T/V23)
Serial interface compatible with RS-232/V.28 level
Point-to-point, point-to-multipoint, 17.5 or 23 ms modem train time
Asynchronous operation, 10 or 11 bit character format
2 wire half duplex or 4 wire full duplex
Automatic adaptive receive cable equalizer for high performance
Transmit and receive cable equalizer for long cable operation
Compact size: 4.95″ X 3.95″ X 0.7″
Single 10-60V power requirements, max. 125mA
Operating Environment (-40°C to + 85°C)
Transmit output power from 0 to -14  dBm (2 dB step)
Operating distance as line driver: > 20 miles
Applications
SCADA monitoring and control
Remote meter data collection
Security gate and door control
ATM and point-of-sales terminal
Industrial automation monitor and control
Gas and water pumps monitoring and control
Remote sensor monitoring
Traffic light monitoring and control
Rail road crossing monitoring and control
 Specifications
Data Rate Support:
19200, 9600, 4800, 2400 bps in fast poll (23 ms train time)
0-1800 bps in Bell 202T mode (8.5 ms train time)
0-1200 bps in ITU-V.23 mode
Data Format: Asynchronous, 7, 8 or 9 data bits
10- or 11-bit character with 1 or 2 stop bits 
Modulation:
QAM for 19200/9600/4800/2400 bps (Fast Poll)
FSK for 0-1200 or 0-1800 (Bell 202T & V23)
Modem Equalizers:
Automatic & adaptive equalizer
Enhanced fixed cable equalizers for extended range over unloaded cables
Transmission Line Interface:
TELCO Voice band 2- or 4-wire leased line
Private Line, 2- or 4-wire, 19-26 AWG
Connector: 4 pin terminal block
DTE/RTU Interface
Connector:         DB9-F
Signals:              RTS, CTS, CD, TD, RD, DSR, SG
Signal level:       RS-232/V.28
Power Supply Specifications:
Power Input: 10 to 60 VDC
Power Consumption:
Idle mode:         100mA
Normal mode:   120 ma, typical
Mechanical Specifications:
PCB Dimensions: (4.95″ X 3.95″ X 0.7″)
Weight: 4.0 oz
Environment Specifications:
Temperature:
Operation: -40°C to + 85°C
Storage: -40°C to + 100°C
Humidity: Up to 95% non-condensing